Overview
Professor of Public Health
Prof Binns graduated in medicine from the University of Western Australia and worked for several years in hospitals in Perth before going to work as a medical doctor in Papua New Guinea for eight years. In PNG he became very interested in nutrition and received a scholarship to complete a MPH degree at Harvard. He returned to Australia to Curtin University (then WAIT) and founded the Curtin Health Service and was its medical director for 20 years. He was appointed foundation Head of the School of Public Health, a position he held for 21 years and continues as Professor of Public Health.
He was Vice-President of the Asia Pacific Academic Consortium for Public Health for five years and is now Deputy Editor in Chief of the Asia Pacific Journal of Public Health. Other positions held at Curtin University included foundation head of the National Drug Research Institute. He holds visiting professorial positions at Kagawa Nutrition University Tokyo, University of Ryukus Okinawa, Tonji Medical College Wuhan and Inje University, Republic of Korea. He has served on 16 committees of the National Health and Medical Research Council and currently he is a member of the Australian Dietary Guidelines Committee and the Advisory Panel on the Marketing of Infant Formula.
He has had a major interest in public health nutrition in Australia, particularly in the development of Dietary Guidelines and in breastfeeding policy. He is a member of numerous government advisory and research committees and has published 300 articles in scientific journals. In 2004 he was given the award of Senior Western Australian of the Year and was awarded an honorary PhD from Inje University, Korea for public health research in Asia.
Current research interests include breastfeeding, international health and nutrition and cancer. Major current research projects include the Perth Infant Feeding Study and projects on infant feeding, nutrition and cancer in China (3 locations), Japan, Vietnam, Malaysia and Kenya. He has completed consultancies on nutrition and public health services in the Maldives, Indonesia, Papua New Guinea, Kenya, Malaysia, Mauritius, New Zealand and China.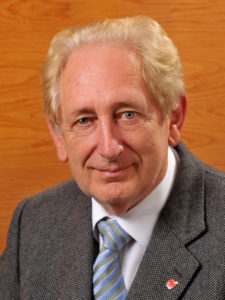 Copyright 2020 profcolinbinns.com